Best budget Windows tablet 2019: Cheap windows 10 tablets
Best Windows tablet 2019
A lot are looking for best Windows tablet in 2019. Windows 10 Creators update has made the operating system much more powerful, feature-rich and capable than ever. There are two reasons why people buying the best windows tablet instead of most popular apple or those cheap android tablets under 150 dollars or so.
First is application compatibility. You don't need to find an alternate app since all of your desktop windows applications run without any conversion. Windows tablets run on same 100% identical code as your desktop. Same x86 code runs without any emulator or special layer so there are no compatibility problems.
Second is the fact you don't have to cope up with watered down versions of apps. Since the windows 10 tablet is running same operating system as your desktop or laptop, you don't have to deal with mobile variants which is in case of iOS and android apps. Mobile variants are weak in terms of features and functions.
Third is hardware compatibility. You can plug in the same printers, scanners, monitors with windows tablets. This is something you would never be able to do on other tablets since they don't support USB peripherals like windows.
In order words, windows tablets double as computers when needed. At the same time, they are still as enjoyable to use as any iPad and android tablet.
Windows tablets are often associated with providing long battery life and that's because they run on low voltage processors. This helps in prolonging battery life and allow laptop manufacturers to make fanless computing devices like windows tablets.
What to look for choosing best windows tablet?
Keyboard – Most of the super cheap windows tablets come without a hardware keyboard. They make up as excellent standalone devices and can be used for multimedia and light office work where you do not have to do a ton of data entry. Some of the higher end ones come with hardware keyboard but they are detachable in most cases. The high end models have excellent full size keyboard for writers so if you are planning to write a lot of content, we have you covered.
Resolution – If you are buying one for casual use or kids, the cheap ones will do just fine. The low end ones come with HD 1366X768 pixel but some of the higher end one comes with full HD or in some cases, ultra HD. The ultra HD laptop and tablet panels pack 4k resolution which is about four time typical HD resolution so you see much more data at a time.
Storage – All the windows tablets make use of SSD or eMMC for storing data. Both are flash storage types so there are no moving parts. This makes data stored on them more reliable. Generally, these have low storage capacities since all you will be doing is web surfing or working on office files. That being said, there is microSD card slot onboard which helps you expand storage.
RAM – For general computing tasks like web surfing, YouTube and office work, 1 or 2GB RAM is enough and most of the cheap windows tablets come with this much amount of memory. This is good enough for your daily tasks. If you going to a lot of multitasking, we have included few that come with 4GB RAM.
Here are the best windows tablets of 2019.
NuVision
This is the cheapest windows tablet out there and has enough power for most users who are planning to use their tablet to remote desktop, web surfing, movies and light office work. The screen is extremely sharp since it packs full HD panel. It is thin, light and well balanced tablet. Interestingly, sound quality through headphone jack is extremely nice when you pair it with a decent pair of headphones. The looks are pretty good and overall performance is way better than what one would expect from a windows tablet of this price.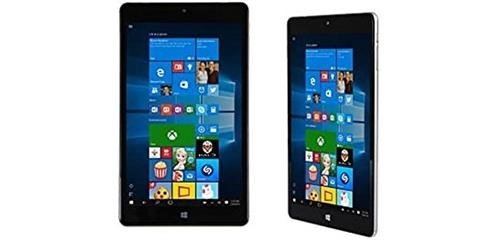 | 8 inch full HD display, 0.68lbs, Intel Atom quad core processor, 32GB flash storage, microSD card slot, 2GB RAM, Cameras: 2MP front, 5MP rear
HP x2
HP X2 is a quality windows tablet with touchscreen. It is perfect with beautiful display, wide viewing angles and premium design. It weighs just 2.4lbs and has quad core processor that gives you good performance and long battery life. It has the best keyboard in its class and pretty spacious touchpad as well. Battery life is about 9 hours on single charge which is pretty good for something that weighs only 2.4lbs.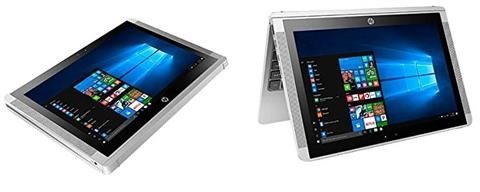 | 10.1″ WXGA 1280X800 pixel display, Intel Atom x5-Z8350 CPU, 2GB RAM, 32GB eMMC flash storage, Windows 10 Home
RCA Cambio
RCA Cambio is a detachable laptop where you can detach its 10" screen and use it as standalone tablet. The keyboard is small but that is expected from a tablet of this size. But it is good enough for working on documents, emails and web surfing. The 10" screen is about the size of an iPad and works well with windows 10. You can even connect it to a large monitor or HDTV by using mini-HDMI to HDMI converter and then using a standard HDMI cable. Battery life could be better but at this price, we can't complain much really.


* 10.1" HD display, Intel Atom Z3735F CPU, 2GB RAM, 32GB flash storage, microSD card, Webcam, WIFI and Bluetooth, 2.7lbs
Nextbook Flexx 9
If you are looking for an extremely small windows tablet with keyboard that runs windows 10, the Nextbook is an excellent choice. It has perks like full size USB port, micro HDMI, mini USB and expansion slot that make it a very practical computer. The display surprisingly outputs clear colors. I love the fact you can use the display in variety of positions. Or you can detach it and use it slim windows tablet. Performance is decent enough even though the unit has just 1GB RAM. Windows 10 is quite optimized for such low end units and you will have no problem in carrying out your daily duties.


| 8.9-inch HD display, detachable keyboard, Intel Atom quad core CPU, 32GB flash storage, microSD slot, 1GB RAM, 2.6lbs
CHUWI Hi10 Plus
Chuwi Hi10 Plus is a dual booting tablet that runs both windows and android. For under 200, you are getting specifications of a high end tablet. It has 10.8" full HD display, IPS panel, Intel X5 quad core processor, 4GB RAM and 64GB storage that is expandable as well. Just with one switch, you can switch between either of OS with ease. Full HD panel is excellent for getting work done or multimedia consumption. Its excellent hardware configuration ensures you have a powerful tablet that meets all or your work and gaming needs.


| 10.8″ Full HD 1920×1280 IPS Screen, Intel x5 cherry trail z8350 CPU, 4GB RAM, 64GB eMMC Storage, can be expandable to 128GB, Micro HDMI, Type-C USB3.0, 2.2lbs
HP Spectre X2
HP Spectre X2 has large 12" display and computing power of a mid-end mainstream laptop, making it ideal for professional and serious work. It is also great for those who yearn for a large display for consuming content. The latest Intel Core M3 processor, 128GB SSD and 4GB RAM together give you strong performance and excellent battery life as well. The keyboard is very well made and accompanied by large touchpad. There is a stand behind the display that useful when doing web surfing or placing it on table. It is the best windows tablet of 2019.

* 12″ wuxga+ IPS touchscreen display, full HD resolution, Intel Core M3-6Y30 processor, 4GB RAM, 128GB SSD
Acer Aspire One
Acer Aspire One has convertible 2-in-1 display that can be rotated to the back and used as one large windows tablet with 11.6" screen. Powering it is a powerful Celeron processor and 4GB RAM for great multitasking experience. There are full size ports on it so no need to use dongles. The keyboard is excellent for typing long documents and touchpad supports all windows 10 multitouch gestures.

* 11.6″ 1366 x 768 HD display, Celeron N3060 CPU, 4 GB RAM + 32 GB eMMC flash storage, micro SD card slot