Best cheap laptop with DVD drive 2020: Top laptops with optical drive – Cheapest Windows 10 laptop with DVD drive
Cheap laptop with DVD drive 2020
Looking for a cheap laptop with DVD in 2020? Laptops with DVD drives are getting less and less everyday so our laptop experts sat and started short listing and reviewing cheap laptops with DVD drives. Some people prefer buying laptops with DVD drives as they have a lot of media stored onto it and they want to run the media off optical disk itself.
A laptop with DVD drive should come with Windows 10 onboard and if it does not, it should be accompanied by windows 10 drivers so that the user can himself install windows 10 on that cheap laptop with DVD drive. The main reason behind this is the fact that windows 10 offers built in support for running movies and videos off DVD disks. The build in application on windows 10 can handle most of the common DVD formats out there and it is simply more convenient due to this very reason.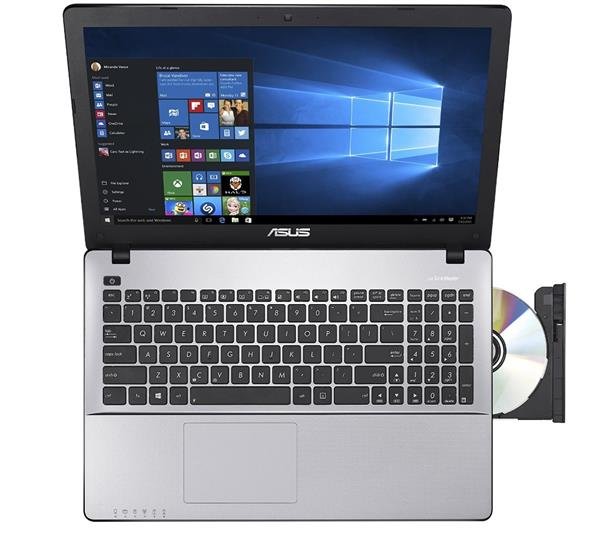 We suggest buying a cheap laptop with optical drive and installing windows 10 ourselves as this will help in buying it at lower price. You can expect a price difference of around 60-80 dollars between laptops with windows 10 onboard and ones without the windows 10. This is because Microsoft charges a fee for windows 10 license which is later passed on to the end user. That said, if you are not a computer geek, you would be better off buying any cheap under $400 laptop with DVD drive instead of without windows onboard.
Best cheap laptops with DVD are given below.
Dell i3552-3240BLK
If you are tight on budget and looking for a basic do-it-all laptop, consider checking out this Dell laptop. Built like a tank, it has decent processing power, RAM and ports. Keyboard is full size so it can also be considered as cheap desktop replacement laptop. It has big screen and surprisingly light. It is tweaked for windows 10 and runs it exceptionally well.


15.6-inch HD 1366×768 display
Intel Pentium Processor N3700 (2M Cache, up to 2.40 GHz)
500GB 5400 rpm Hard Drive, 4GB Single Channel DDR3L 1600MHz (4GBx1) RAM, Tray load DVD Drive (Reads and Writes to DVD/CD)
HP 15-F211WM
This laptop is good enough if you do basic stuff like web surfing, skype, office work and use apps that don't strain the CPU much. It has touchscreen so you can interact directly by touching the screen with your finger which feels very natural. It is cheap and has dedicated numpad with full size keyboard so you will feel home just like your desktop PC. If you crunch in a lot of numbers, this is a nice cheap laptop with DVD drive for you.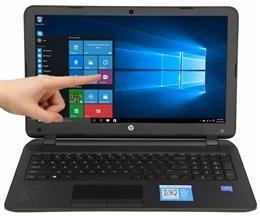 > Intel Celeron N3540, Dual core processor
> 4GB RAM; Hard Drive: 500GB, DVD writer and reader
> Windows 10 operating system, Dedicated numpad
Acer Aspire ES 15
This is the cheapest laptop with DVD drive and comes with genuine Windows 10 pre loaded. It is also the cheapest i3 laptop which is better than most cheap laptops that come with entry-level Pentium or Celeron processor. It runs very quite and packs massive size, 1000GB hard disk which is great for storing lot of multimedia content and large applications. Get this and we bet you won't regret it.



# 15.6″ 1366×768 resolution; 16:9 aspect ratio, HD screen
# Intel Core i3-6100U Processor (2.3GHz, 3MB L3 cache)
# 4GB DDR3L, 1TB HDD, Windows 10 Home
Lenovo Ideapad 110
Well balanced laptops that deliver good performance and battery life are hard to find. Thankfully there is this Lenovo laptop that has decent specifications for an everyday laptop and more. It has big, spacious full size keyboard and touchpad with dedicated left-right click buttons for maximum comfort. For storage, you get 1TB hard disk which is great for those who store a lot of data on their computers.


| 15.6″ 1366×768 HD LED Laptop, Dual Core intel i3-6100U 2.3 GHz, 4GB RAM, 1TB HDD, DVD-RW, Wireless-AC, Bluetooth, HDMI, Windows 10
HP 15-ay011nr
This is a professional laptop from HP featuring latest specifications like i5 processor of latest generation, and full HD resolution so that you are able to see maximum content at a time. Keyboard too is full size and has wonderfully designed keys for maximum typing comfort. All that power is useless if you don't get decent battery life. HP has equipped this one with a big battery so it will easily give you 5-hour plus battery life with ease. This is the best budget HP laptop with DVD drive. If you do not want to spend a house on a laptop, getting this HP laptop makes sense.


15.6″ full HD SVGA anti-glare backlit display, 1920×1080, Intel HD Graphics 520
Intel Core i5-6200u CPU, 2.3-2.8GHz
8GB DDR3 RAM, 1000GB HDD, Super multi DVD burner
Asus F556UA-AB32
You will not find a laptop this powerful and feature rich this cheap. This laptop packs 15.6-inch display with full HD 1080p resolution that provides exceptional clarity and sharp visual experience that is found in high-end, more expensive laptops. It has full size laptop keyboard with Asus Ice Cool technology that keeps the palm rest area at comfortable temperature. It has decent storage and memory both of which can upgraded in future. It is the best cheap laptop with DVD disk drive of 2019.


15.6-inch full HD resolution packing 1920×1080 pixels
Intel i3-6100u processor clocked at 2.3GHz
4GB RAM, 1000GB hard disk, DL DVD drive, 2x USB 3.0, 1x USB 2.0, HDMI, VGA
Acer Aspire E 15, 15.6″ Full HD, 7th Gen Intel Core i3-7100U, 4GB DDR4, 1TB HDD
This is the latest laptop with DVD and latest Intel kabylake processor. It features the seventh generation i3 processor that runs at 2.4GHz clock speed meaning it can handle CPU-loads with ease. It has faster DDR4 RAM and 1000GB hard disk which when combined with full HD display yields excellent computing experience. It has all the usual ports you would expect to find in a mainstream laptop.


7th Generation Intel Core i3-7100U Processor (2.4GHz, 3MB L3 cache)
15.6″ Full HD Widescreen ComfyView LED-backlit Display supporting Acer ColorBlast technology
4GB DDR4 Memory, 1TB 5400RPM HDD, 8X DVD-Super Multi Double-Layer Drive (M-DISC enabled)
Latest 802.11ac wireless featuring MU-MIMO technology, experience up to 3x faster performance
Asus X555DA-WS11
This Asus laptop offers all around good performance. It has a very powerful AMD A10 processor that is backed by Radeon R6 GPU that makes it excellent for everyday work, graphic designing and even gaming. You can even use it for programming, photo editing and basic-video editing. Full size keyboard means you will have no trouble typing in long documents. If you are a heavy user, you will love this laptop. There is 1000GB hard disk storage, lots of memory and powerful processor – all backed by decent amount of modern and conventional ports. Clearly a top laptop with DVD drive.


> AMD Quad Core A10-8700P processor
> 8GB RAM, 1TB hard disk drive; DVD RW, Windows 10 operation system.
> 15.6 inches LED backlit display, 1366 by 768 resolution, matte finished
> Feature 2 x USB 3.0, 1 x USB 2.0, 1 x HDMI and VGA ports.
Asus X540SA
This Asus laptop looks way too premium for its price tag. It is quite capable as well packing latest Intel quad core processor, 500GB hard disk and 4GB RAM making it a dependable multi-tasking laptop. Priced in the netbook territory, this Asus laptop has full size keyboard with dedicated number pad and large touchpad. The chiclet-style keys are ergonomically designed and very comfortable to use. An affordable laptop with DVD.


15.6″ LED high-definition display, 1366×768 resolution
Intel Quad Core Pentium N3700 Processor up to 2.4 GHz
4GB RAM, 500GB HDD, SuperMulti DVD, Windows 10 64-bit
So that was the list of best cheap laptops with DVD drive. If you could not find the one you were looking for, just buy any laptop and get an external DVD drive for additional 15 dollars.