Best kids laptop 2019: Best laptop for children – Top laptops for kids
Best laptop for kids in 2019
When it comes to choosing best laptop for kids, there are several things to keep in mind. First and foremost is the price tag. A laptop for kids should be cheap so that if they break it, you are not angry at them. This means spending no more than 400 dollar on laptop. Also when you are buying a laptop for these little ones, you are probably preparing them for future when they would be working and playing with bigger and more expensive 1000-1500 dollar laptops. So what are the factors you must keep in mind when choosing a cheap laptop for kids.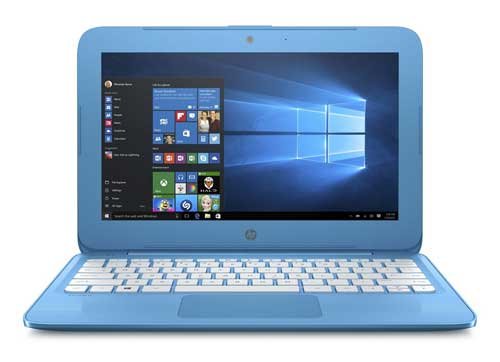 Screen size: Go for a laptop with small size. Netbooks are a good start and in 2019, they are faster than ever.Netbook comewith 12" or smaller displays and are great for little hands of kids. But if you or your child prefers bigger screens, we have a 14-inch laptops on the list as well. We have also made sure that these kids laptop come with identical keyboard like their bigger cousins. Another thing we kept in mind was windows. They will be using this OS when they grow up and so what better time to train their brains for the world's most used operating system.
SSD: Kids rattle their laptops a lot and it would be a good idea to go for a laptop with a SSD drive. Gone are the dayswhen laptops with SSDscost a bomb. Now you can bag laptop with SSD for under 200 dollars. You will be surprised how fast the computer becomes after adding an SSD drive. Not only OS will load quickly, apps and their processes load faster too.
Light weight: Avoid bulky laptops – remember you are not buying alaptop for programmers– you are buying a cheap laptop for kids. They should have a machine that they are easily lug around. Go for laptops under 2 lbs. As said earlier, netbooks are ideal for kids as they satisfy all the creiteris that one would look for when choosing a laptop for kids.
Battery life: Make sure the laptop offers good battery life. It is hard to keep a kid wired to a charger so it makes sense to have alaptop with long battery life. Fanless computing is preferred too as they will be placing these laptops on their laps and you would not want to burn them. In fact, laptop experts have only mentioned those laptops for kids that are fanless. Because we care and understand.
Brands and warranty: Go for popular brands like Lenovo, HP, Asus, Dell and Acer as they have a decent amount of service centers in USA. This is useful in case something goes wrong with your laptop and you need assistance. Avoid lesser known and Chinese laptops even if they are cheaper.
Here are the best laptop for kids.
Asus Chromebook C202SA
Asus Chromebook C202SA is a laptop that is made for kids in mind. It has water resistant design that is rugged as well. So it can easily take some beating easily. We love the fact that it cannot be infected by virus attacks and offers whopping 10 hour of battery life. All that in a laptop that weighs mere 2.2 pounds.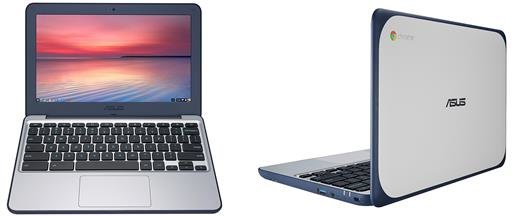 * Intel Celeron N3060 processor with dual cores
* 10 hour battery life, 11″ display with anti-glare panel
* Water-proof, ruggedized
Dell Inspiron i3162-0003BLU
Dell Inspiron i3162 is the best laptop for kids. It has an attractive design and packs enough power to handle all the tasks your kids will be doing on a laptop. The data is stored on flash disk so everything loads up instantly. The 4GB RAM ensures there are no unexpected slowdowns. The keyboard is near-full size and very precise. Battery life is around 10 hours.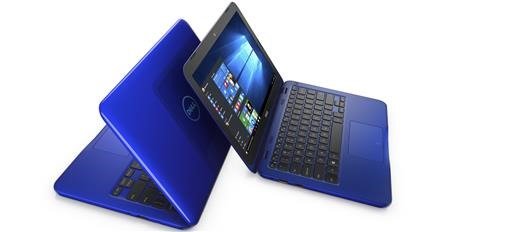 # 11.6″ matte screen, HD resolution
# Intel Celeron N3060 processor, clocked at 2.48GHz
# 4GB RAM, 32 eMMC HDD, Windows 10 Operating System, Waves MaxxAudio Pro
Acer Cloudbook 14
Acer Cloudbook 14 is large laptop and surprisingly powerful. It runs on a decent dual core Intel processor which when paired with eMMC storage loads everything near-instantly. It has attractive chassis which is also home to two loud stereo speakers. The keyboard is full size and touchpad is large. This ensures a comfortable typing and navigation experience. Fanless design, 3.53 pound weight and fast processing makes this laptop the best laptop for kids.


# 14″ HD 1366×768 pixel screen
# Intel Celeron N3050 dual core processor with 2MB cache
# 32GB flash storage, 2GB RAM, 12-hour runtime, free 1-year office subscription
HP Stream 11
HP Stream 11 is a kid-friendly laptop. Its nimble performance will surprise you. With its dual Wi-Fi antenna, you get stronger and more reliable internet connection that gives you better streaming and smoother web surfing experience. It has super thin and lightweight design and that lets your kids carry it everywhere you go. It weighs 2.57-pounds and yields more than 10-hour battery life. An excellent laptop for kids.


# 11.6 inch anti-glare display
# Intel Celeron N3060, 4 GB RAM, 32 GB eMMC